As an Amazon Associate, I earn from qualifying purchases.
Tip #3
---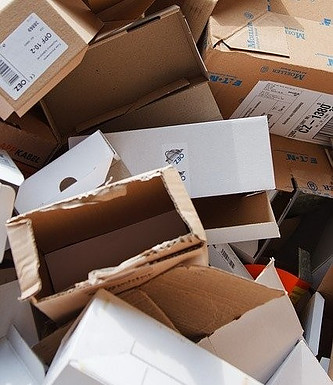 Once an item sells on eBay there are a variety of ways to ship your item. Here is a rundown on some options:
1) eBay – Under the "bell" image at the top right corner of your eBay page you will see a list of actions. If your buyer has paid, then it will remind you that it's TIME TO SHIP. Using eBay to ship will be one of the quickest and easiest choices.
Both the buyer and seller's addresses are populated into the shipping label. You will need to fill in the measurements and weight of the package or envelope and select the method of shipping: first class (under 16 ounces) or priority mail, and if you are using a flat rate box with USPS.
Once complete, select Buy Postage and Print and you are done. Put a plain piece of paper your printer tray or a sticky shipping label (face down). Peel off and put on package. It's ready to hand off and or be picked up by your mail carrier. Another option is to place on the counter at your local post office.
The USPS tracking number produced by creation of the label will automatically be loaded onto the eBay order page and the buyer can see it as well.
Process: All very simple and direct. Discounts will automatically show up as an eBay seller under costs.
2) Pirate Booty – This shipping tool is FREE to use. Requires a sign-up and gives discounts to shippers automatically. No credit card needed, no spam, no catch! Their tag line is: Get the cheapest shipping rates for all USPS services.
How it works: Measure your package's dimensions and weigh it. Enter the package's info and import buyer's eBay (info in one click) and BUY postage. Print shipping label, put onto package and hand it to USPS. DONE!
I have used Pirate Ship for most of my eBay shipping during the past year and have been completely satisfied. For a few of my UPS and FedEx package's I've used Ship Station – see below.
3) Ship Station – Shipping software (web based) for eCommerce! This is a robust option for shipping your eBay package's. I have used this software for the past few years and was very happy. It's very easy to compare shipping options to find the cheapest rates. It imports shipping info from over 70 eCommerce platforms. There are different payment plans from Starter to Enterprise with lots of options in between.
I am now using the Starter plan which allows me to ship up to 50 package's per month and compare USPS, UPS and FedEx very easily. I use Ship Station primarily for my larger parcels, by size and weight. I have more options than Pirate Ship and eBay allow me to use.
I am a fan of Ship Station. Please use my referral link if interested in trying. You will love their customer service and product!
4) PayPal – Many sellers are not aware that you can ship directly from the PayPal page. On your main page dashboard there is a box that says: "You have orders ready to ship". Click on that link and you will see a list of the names imported from eBay. Click on PRINT SHIPPING LABEL and you can fill out the necessary box size and weight and see the delivery options available, as well as their costs.
There are discounts from USPS for package's with this shipping option too. If you spend a lot of time inside the PayPal website, then this option may be for you! The payment comes directly from your PayPal balance or any other added payment options you use. I have used PayPal for shipping in years past, but am not a regular user for shipping at this time.
5) UShip – Freight Shipping – Makes shipping big stuff easy and affordable by connecting people and businesses with discounted extra truck space. No matter what you're shipping — a car, a boat, your mother's piano, that massive collection of vinyl records, they have a solution for you!
I have signed up for an account, but have not used the software yet. This past summer I could have used it because I was selling a piano and needed some pricing on freight services. I will post once I use UShip. Sounds like a good option for really large items!
Recap
---
Tip #3 – Log into the Shipping Option your choice.
Task: Ship one item on eBay using a listed option
Goal: Find out which software you like best!
Amazon and the Amazon logo are trademarks of Amazon.com, Inc, or its affiliates.
Please follow and like us: