10/10/19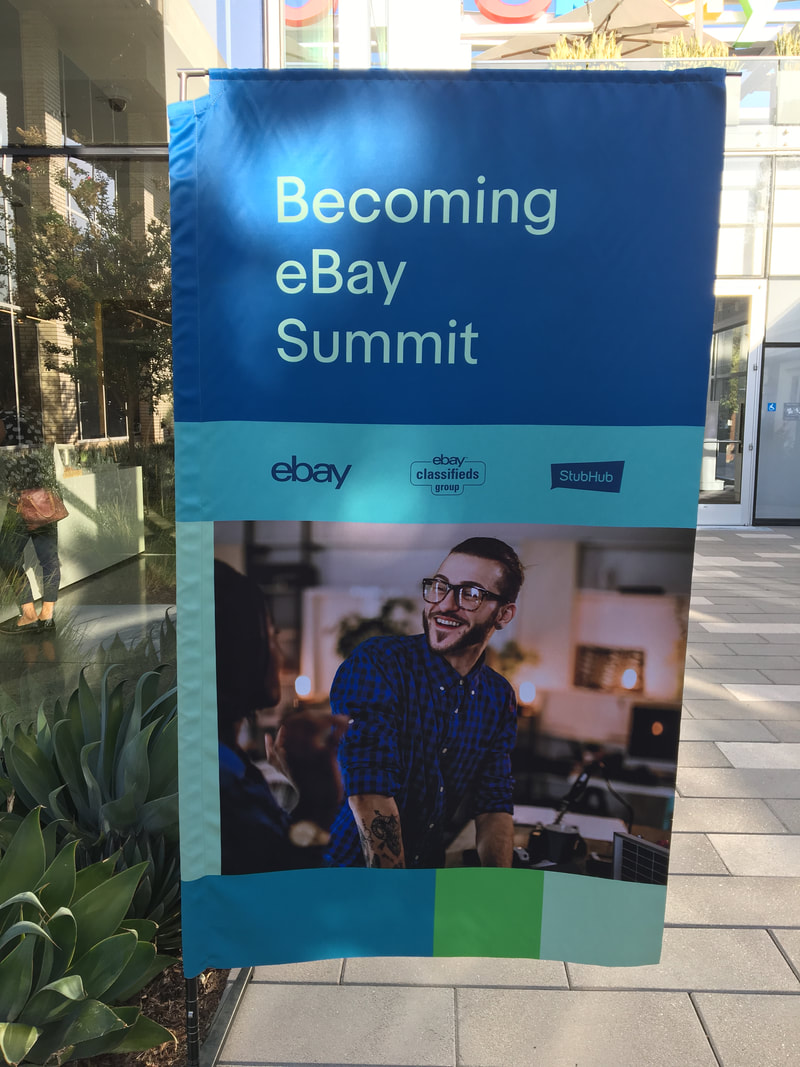 New eBay Hires
---
So honored to once again be included in this awesome eBay seller panel (Becoming eBay event at eBay Headquarters in San Jose, CA) sharing our unique seller experiences with the new quarterly hires for eBay! What a smart bunch of people eBay has working for them: enthusiastic and friendly and willing to learn what will make eBay strong and competitive!
The seller panel meets in the lobby gathering space outside of the central auditorium and catches up with hellos and what's up in our selling domains between each other. The group consists of Northern California eBay sellers that have a wide range of selling niches. I like to share my story of as a former tennis teaching professional, I sell a ton of used "dead" tennis balls on eBay. People always chuckle when they hear that and want to know "to whom". I sell mainly to dog owners and the lots range from five, ten, twenty-five, fifty and one hundred ball lots! I also sell the used balls to teachers for their classroom chairs and to retirement homes for the bottom of walkers, so they slide on the floor more easily.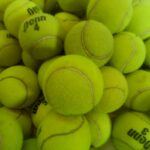 Some of the other panelist/sellers sell things like: tickets to concerts and shows, old motorcycle parts, skateboards, ephemera (paper collectibles), designer shoes and clothing. The list goes on and on! One member of our panel received the eBay Shine Award a couple years back, which was a huge honor for how quickly she grew her eBay business. She sells electronics and has a warehouse and many employees now!
Clapping Ovation
---
As we get the call to enter the room of new hires, we are thrilled to be part of their celebration and the end of their three day retreat and training on all the parts of eBay. They jump to their feet and give us all a standing ovation and lots of clapping! It's so exciting and I for one always feel a sense of pride for all that I have accomplished in my over twenty years of selling on eBay!
We take our seats in tall director chairs on stage. The microphone is passed down the line for each of us to give a short introduction of our selves. Then the audience lines up to ask questions of our group. The audience is grouped by different eBay divisions: Trust and Safety, Managed Payments, Customer Service and others sitting at large round tables.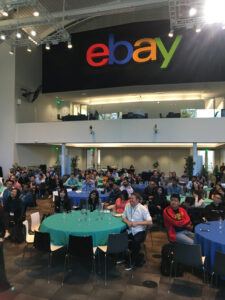 After about an hour of questions and answers the panel again receives another ovation and we are dismissed to one panelist per table for dinner. The food is catered and has something for everyone. We line up and serve ourselves: pasta, chicken, meat and lots of assorted salads. I love getting to know the people at my table. They are a very diverse group and always interested learning all they can about their new company.
Buying and Selling Gives A Different Perspective
---
One of my top pieces of advice to all the new hires is for them to experience eBay as a buyer and as a seller. Once they do that, they can see what it's really all about. They can better understand the frustrations that many of us go through when selling online in general and eBay specifically. While selling on eBay can give a person many freedoms like no boss, keeping your own hours and being flexible on what you sell, it can be challenging dealing with all sorts of buyers out in the real world. It is very eye opening "wearing the different hats" of a buyer and a seller!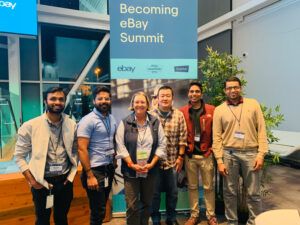 As the evening winds down, we say our goodbyes. Most of them will work for eBay for a while. Many will move around to other tech companies, but each is excited to begin their new adventure on the various eBay campuses in their new positions. I drive home to Marin County after receiving my "gift" bag for my participation and always look forward to my upcoming invitation in another few months at the eBay headquarters in San Jose!