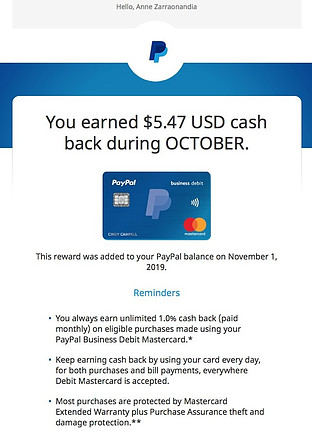 Tip #4
---
One of my favorite ways to save money selling on eBay, is to use my PayPal Master Card Debit Card. It returns a 1% cash back every month for purchases made.

Biz Only
---
I use it strictly for my online eBay business to keep my bookkeeping straight. What ever I spend in a month using the PayPal Business Debit Card will come back to me as a Cash Back Bonus, the following month. I pay my eBay fees every month which are roughly 10% of my sales. So If I sell $2K on eBay, my fees are about $200 and I will get $2 back.
Besides my eBay fees, my shipping costs are my highest expense each month. I use my PayPal Master Card Debit Card to pay for them and that earns me between $3 to $5 back on those fees. Each month is a little different, and I like getting any dollar amount directly back into my PayPal account even if it is small. Over the course of a year, it can easily add up to over $100 for me, given my eBay expenses: fees, shipping costs and other bills associated with my eBay business.
Once upon a time, users of the Cash Back Plan made 3%, which was awesome, buy hey, I'll take 1% anytime. And like I said every little bit helps the bottom line. In order to take advantage of the Cash Back Bonus on PayPal, it is necessary to apply for a FREE business debit card and join the program. There is no cost in joining.
In fact, you don't need to be an eBay seller to receive money back. If you are a business PayPal member and get one of these business debit cards, then eligible purchases you make with the card will put this 1% bonus in your account the following month.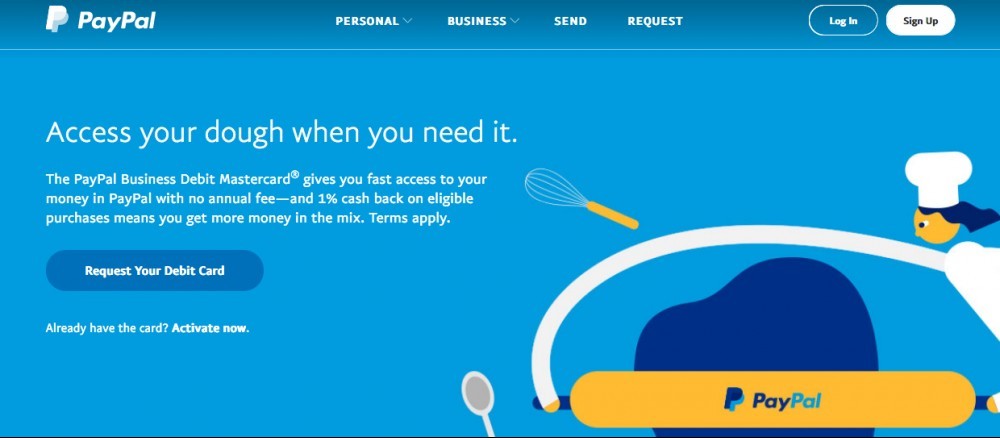 For complete transparency here are my Cash Back Bonus numbers during 2019:
These numbers do not include my final payment of 2019, but I earn approximately $93 back this past year. Not too shabby!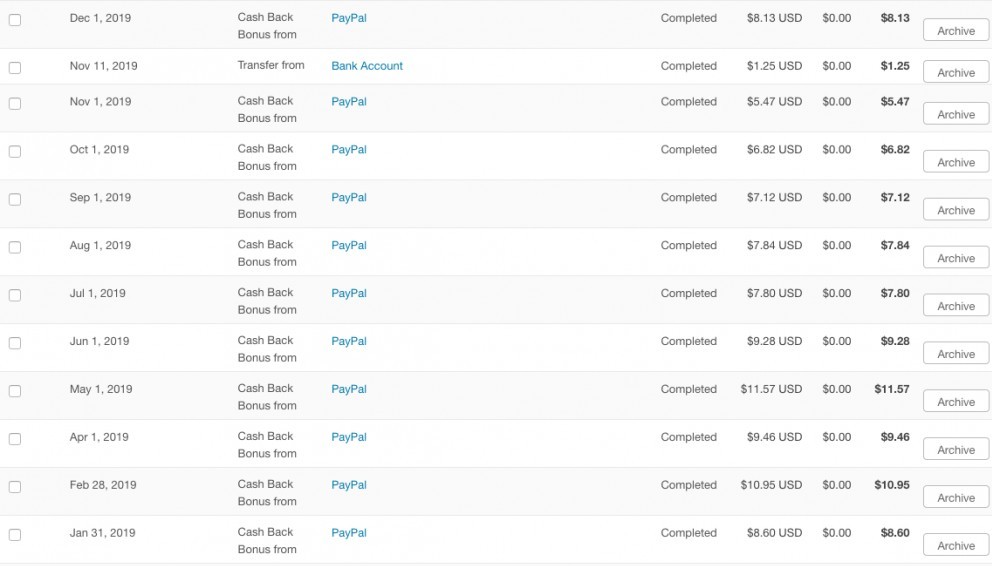 Recap
---
Tip #4
Sign up for PayPal and Request Your Business Debit Card.
Activate it (no annual fee) and Earn 1% cash back on eligible purchases!