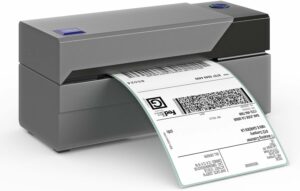 I don't know why I waited so long, but I finally took the plunge! I bought a dedicated USB thermal label printer!
No Ink Needed
---
Thermal printers are really cool because they use no ink! Instead, the printer prints digitally on thermal paper by heating selected areas of the paper as it passes over the thermal print head.
Actually, I have previously owned a Dymo thermal printer made just for printing small 1″ x 3″ mailing labels. I used this when I sold on Amazon as an FBA seller (fulfilled by Amazon). In order to send my products to their warehouses, each item had to have the bar code covered over with a new code label. I loved the ease of use. It just printed a specific size label, over and over. It was a work horse! I loved that little printer!
I didn't come by newest purchase without cause. My main printer, a Brother Color Laser printer (MFC-9130CW) needed a new fuser, which I've replaced in the past, so I ordered the part on eBay. It came, I installed and it still was not working properly. I re-installed the old one, no help either. I had a lot of shipping to do today, so yesterday I did a little research and decided to buy a dedicated thermal label printer, just for my shipping labels.
My 1st Choice
---
How did I decide on the Rollo Thermal Printer? Here are my top three reasons:
It works with a Mac
The Price was right ($169 on Amazon)
I saw some reviews to convince me
Speedy and Compatible
---
In addition, it works with all my various platforms of selling online:
AND my shipping platforms:
eBay.com
Stamps.com
Endicia
Ship Station
Pirate Ship
Prints in a Matter of Seconds
---
It uses 4″ x 6″ connected stacked thermal labels, which feed into Rollo printer
For best results I use: Preview app and Chrome browsers
Label tears right off after printing
Peal off back of label and attach to your package!
Here is a video on installing the Mac Driver! So easy!
Recap
---
eBay Tip #31
Tools can be an important part of your selling online life! Purchasing this dedicated thermal label printer is exactly what I needed for my biz!
Look no further than the Rollo Thermal Label Printer.
The Price is right!
Easy to use with a Mac!
Prints in Seconds!