What is Maxsold?
---
Maxsold is an online auction platform with a local pick-up component (no shipping involved), located all over North America. (Here is a list of the locations where Maxsold sales have been!) I have used them successfully four separate times as a reseller and have gained lots of insight of how it all works. This review will be filled with many personal experiences and a case study of my last auction, which just finished June 27, 2020.
Maxsold offers a quick turn around of about two weeks from beginning to end for those who need to downsize in a hurry or run an estate sale and have everything sell! Yes, that is true, most everything does sell!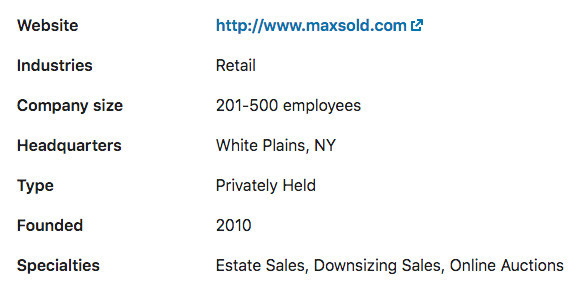 Two Options of How it Works
---
You have the option of hiring a local Maxsold team ("Maxsold Managed") to come to your house or property and sell everything you want them to! They do not "cherry pick" just the valuable stuff, so you can sell everyday household belongings too! The team will catalog and list all your items into lots: gardening stuff, office supplies, artwork, toys, dinnerware, etc. Before they come your job is to separate and take out any personal items that you don't want to sell. The team will come to your location, take photos, create the listings, manage the pick-up day and do everything else for you too: advertising, communication, bookkeeping and payment collection. They will only need to be in your space two times: one before and one after the sale. Maxsold will then send you your earnings check (less Maxsold fees) in about fourteen days. Done! Easy peasy!
Or
You can set up a "Seller Managed" auction, where you do the on-site work (listing, photographing and pick-up duties) while the online team runs the auction, provides the advertising, manages the buyer communication and collects the payments for you. After the online auction is completed, Maxsold sends the seller a list of buyers and which lot numbers they won, along with winning bid prices. Once the buyer has paid, they receive the exact location address where they will come to pick up their items. They can also select the time slot for pick-up! I have scheduled all my pick-up days for Saturdays, from 10am-2pm on two occasions and from 9am-4pm on the other two occasions. Once the pick-up day is completed, the seller fills out a final report and sends via email it to Maxsold. A paper check will be delivered to the seller (less Maxsold fees) within about fourteen days or so. Boom, you are done!
What Does it Cost?
---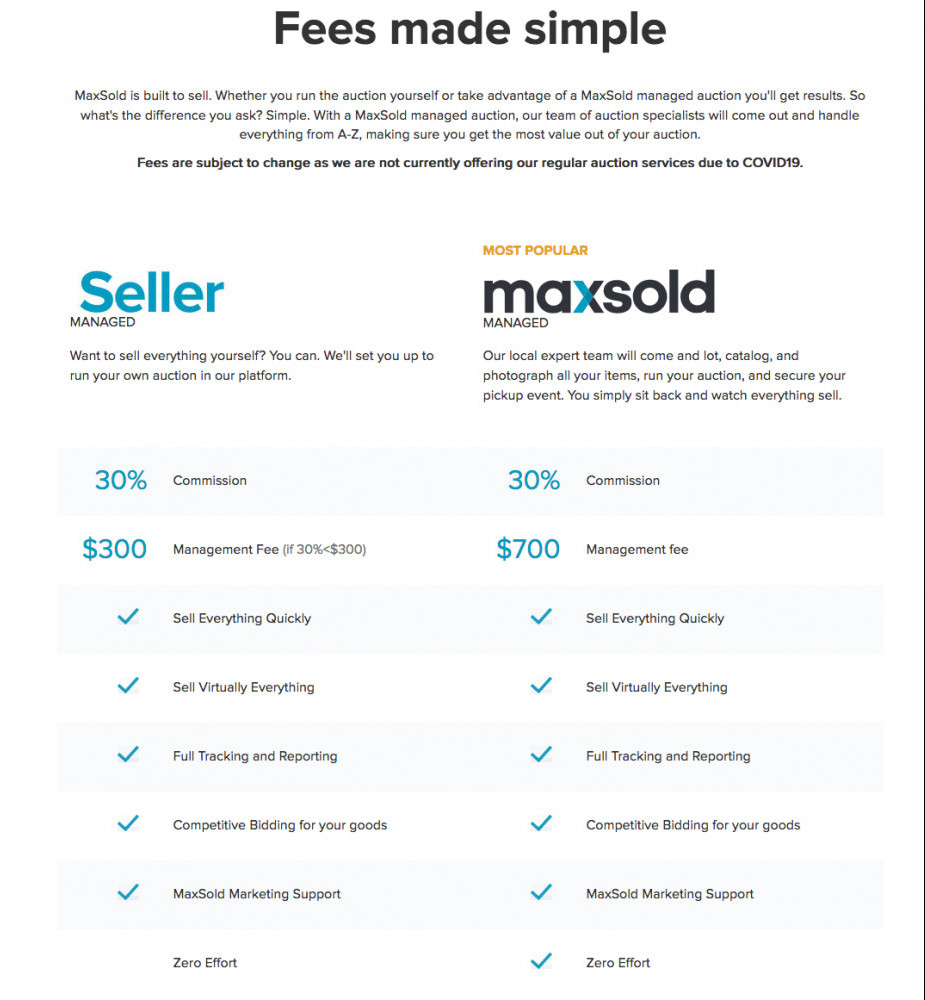 My four auctions have been all "Seller Managed". I did all the leg work (listing and pick-up) and chose to sell items from many of my consignors as well as my own inventory, since I am a long time online seller with tons of stuff! A lot of the inventory was slow moving stock from my eBay store and so the lots I created helped me "move" many hundreds of items! Last summer I helped with liquidating a huge sixty-year old estate and my Maxsold sale was made up of kitchen ware, flower arrangements, picture frames, gardening tools, books and books, sporting equipment, sewing supplies, office supplies as well as collectible figurines, artwork and so much more. There was so much stuff to sell, and about 85-90% of the items did in fact sell. I gave the remainder of the items to a local charity in my area.
Take a Look at Past Auctions
---
One easy way to see what a Maxsold auction looks like is to review a selection of past auctions. They are categorized by city and state location. Click on this link to see past Maxsold auctions. How do so many items sell with Maxsold? The answer is very simple: all bidding begins at $1. Yes, $1. The buyers are excited to jump into the bidding with such low minimum bids, and the sellers are hopeful that it creates lots of interest in their auction items and drive the prices upward!
SELLER WARNING: Some items/lots will indeed sell for $1! So be prepared! Most of the active bidding happens toward the end of the auction, when prices will jump depending on how many bidders are online.
Free to Register As a Bidder
---
Maxsold is free to register if you intend to bid on an auction. However, you will pay a buyer's premium (18% of the total invoice) at the end of the sale, which is an accepted practice.
There is also a soft close on Maxsold auctions. A soft close prevents individuals from entering a bid at the very last second before an auction closes with the intent to prevent others from bidding higher. MaxSold has a two-minute soft close policy on each lot.
This means that if a bidder enters a bid within two minutes of the lot's initial closing time, a two-minute extension would be added on. The lot will not close until bidding is static for two minutes. This practice is common for many auction houses.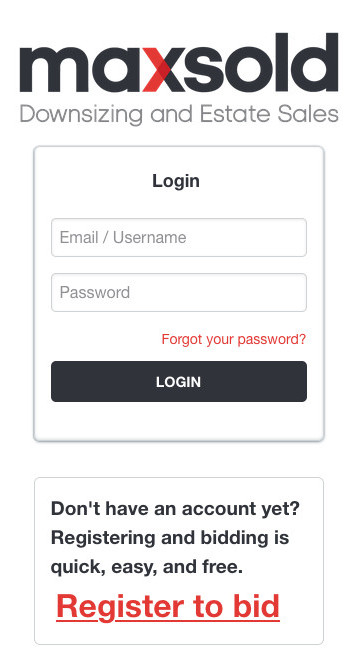 Advertising by Maxsold
---
One very important feature about Maxsold is their ongoing advertising campaigns. They use Facebook, Twitter, EstateSales.net, auctionzip, Craigslist, Pinterest and other sites to advertise your auctions. If more people are reached, then more people may register, bid and win! The Maxsold search engine retrieves all the local auctions by distance, say within an 80-mile distance from the auction's zip code. From my experience my winning bidders have traveled from as far as two-three hours away from my location in Mill Valley, CA in the San Francisco Bay Area.
"There is always good stuff in Mill Valley", said one of my most recent bidders. "And you are always always so organized during pick-up, Anne!"

Auction Info
---
I try to run auctions for a length of seven to ten days (maximum). That gives potential bidders a time to respond to the advertising and to scroll through upcoming and current sales in order to find my auction, and have plenty of time to bid!
Once you have listed everything, either by computer with uploaded digital photos or with the FREE mobile Ninja app for cataloging an online Maxsold auction. There have been many improvements made to the app, which is so quick an easy to use like the ability to upload from your phone's photo gallery and saving your work at every step.
It's easy to upload a couple of lots one day and come back to create more the next time you login. Not all your listings have to be made at one time. My last auction took me many months, because we were in the midst of COVID and I knew no auctions were taking place anywhere. I had lot of time to formulate my listings! Click here to see my auction from June 2020!
If you are interested in becoming a seller please use my referral link: ZA7814! You will get $100 off on your fees!
Case Studies of My Maxsold Auctions
---
As a Top Rated eBay Seller and person who continually "Moves Things Around the Universe", I heard about Maxsold from a guest named Craig Dawson on Jason Smith's eBay Thrifty Business YouTube Show back in early 2019. Craig said it was quick, easy and very successful for him because he already wanted to ramp up his own auctions. He had lots of inventory and some of it hadn't sold in a long time. He turned his frustration into a trial with Maxsold auctions. He formed over one hundred lots, of mostly antique toys and collectibles. He set the launch date, the auction ran, he supervised the pick-up and two weeks later had a nice check for his efforts.
One of my first thoughts was, "I can do that!" That perked my interest mainly because I had a lot of older slow moving inventory sitting around. I wanted to clear our space in my eBay office for new offerings, so I used his referral code and gave it a try! I spoke with Maxsold on the phone and they were very responsive. I filled out the contract and gathered information about the step by step process and within a month I had my first auction ready to roll!
Personal Background: I have been selling eBay since July 6, 1998! Yup 22 years! I've received over 10,000 positive feedbacks as a Top Rated Seller over that time! I have sold a ton of stuff! Most of it under $50 for each sale! I have sold on Amazon as an FBA Seller (Fulfilled by Amazon) and as a Merchant Seller (I ship my items sold on Amazon myself to buyer). I have done scores of garage sales locally in Marin County, CA (SF Bay Area). I sell on local marketplaces too including Craig's List, Facebook Marketplace, NextDoor, and by using old-fashioned Classified Ads back in the day. I also am a long time eBay Education Specialist (eBay's old term and now defunct program) and have taught hundred's of folks all about selling on eBay. Fast forward to my reaching new students by offering an online course called "The ABC's of Selling Online Using eBay" on Udemy.
I sell my own inventory like used tennis balls (for dog owners) and sports equipment to books and movie and music memorabilia. I also sell on consignment for people that are downsizing, moving or just clearing their clutter! I try not to put all my "eggs in one basket" and for that reason I found that Maxsold could enhance my sales by filling a void in the need for inventory reduction and start fresh again with new items to sell!
The biggest benefit for me and my clients are how many individual items I can sell in a week's time and have it all gone at the end of ten days. Plus receive payment within another fourteen days! Below you will see info about the four sales I have had with Maxsold from a year ago (May 2019) to this past week (June 2020). About half of the items were my from my own inventory and the other half from my consignors. It's proven to be a load lightening experience. I am sharing personal information on my completed sales below.
Here is the link to my May 2019 Maxsold sale! There is quite a variety of items in this sale: men's ties, baseball cards and artwork and way more! I sold a total of 79 lots. Here is my final take at the end of it all: $450.81. Better than most of my garage sales!

Here is the link to my August 2019 Maxsold sale! These items were primarily from a family's estate that hadn't sold during their estate sale. The event saw 33 registered bidders, with a gross total of approximately $526.61. 72.10% Sold. This sale was not quite as profitable, mainly because my lots were too big. If I had broken them down into smaller lots, I think I would have sold more. Lesson learned. Still, so many things were picked up that it was a win in that department! There was a coupon applied to my profit of $100 which helped as well! The "no sale" was an electric guitar that went unpaid. I relisted in my next Maxsold auction.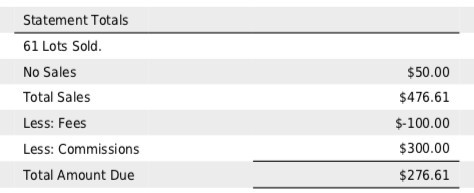 Here is the link to my November 2019 Maxsold sale! The weather was changing and garage sale season was coming to an end in the SF Bay Area. I had to get this in quickly because my pick-up location is out of doors and I didn't want it to rain on my parade! Whew! It didn't rain! This sale had 89 lots that had bids and was made of up dolls, household items and memorabilia. This time the electric guitar sold for $36 to a nice young man who was so excited to win this Decca vintage instrument! I was very happy for him! This was my least successful sale in terms on profit, but once again, I move so many things on without the shipping hassle of eBay! Another win in my book!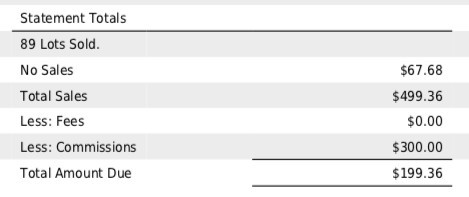 Fast forward to 2020 and I was ready with more inventory to move quickly, mainly to reclaim space in my eBay office. It fills up quickly with all the consignment accounts I have going. The first question to ask yourself is your sale worth at least $300, since that is the bottom line cost for running a "Seller Managed" auction. For this sale, I downloaded the Maxsold mobile app and used the login info provided by Maxsold.
I worked on it slowly in the beginning of the new year and then COVID hit, so I stopped temporarily. With some friendly email reminders and a few supportive phone calls from the Maxsold staff, I resumed my cataloging and got back to work on my latest auction.
Once things started to re-open in California and I did the Covid training for "Seller Managed" auctions about social distancing and spacing pick-up times. I am lucky to have an outdoor pick-up spot, near my eBay office as you can see from the photo below. Notice the hand sanitizer and wipes ready to go! Also, I sorted the lots by winning bidder and labels on all of them to check and double check that all the items were present. I use lots of old boxes and bags to gather the lots up, though it is suggested by Maxsold that buyers bring their own container for pick-up.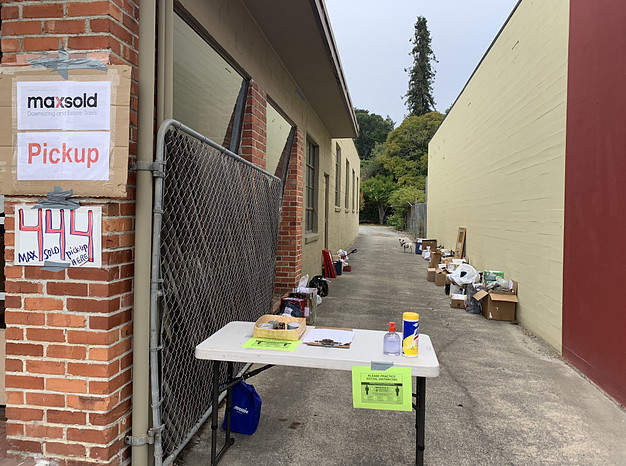 I am waiting for my final talleys on sales and fees, which I will add to this post once they are ready. You will see that I had one hundred lots sell and there were 34 winning bidders. Many bidders are successful on multiple lots! Here is the link to my June 2020 Maxsold auction.
This sale had many bags of Legos, power tools, toys, artwork and other assorted items. So many items were pick-up that didn't go into the landfill and I made more space in my eBay for new consignments and inventory for future sales. My sale grossed a total of approximately $626.10. 83.20% Sold. I was happy even if I have yet to reach the $1000 mark in sales, which would be nice.

Maxsold Buyers Are Very Nice!
---
One of the best part about meeting the people who win my auction items is that I find them incredibly nice. They come from far and wide: Monterrey, San Jose, Oakland, San Francisco and towns in Marin County too! They are very happy to get the deals they do! AND I am so happy that they pick it up, all in one day!
With the Covid rules in place, there were specific time slots for pick-up which actually was a good thing, so I new who to expect next. Some folks arrived early, which was fine, since all the items were labeled by person and ready to go in my alley way. I enjoy asking if they were resellers or just collectors and possibly both! Many of my buyers are now repeat buyers and remember my location as being an easy one to access for pick-up.
At the end of the day, all but two items were picked up, which I reported on my end of sale report to Maxsold. I will be seeing my check in about fourteen days. It is usually delivered by DHL envelope to my front door.
New Contract
---
As a repeat seller, I always look ahead to the next possible window for my next Maxsold sale and will sign a new contract very soon. I hope to have it in the Fall of 2020. No doubt with all my consignor clients, I will have plenty of inventory to lot up and put into a new auction. I think that having more lots, hopefully a little higher dollar value will bring in a larger profit for me. That's my next goal, since my first four sales were about liquidating and moving a volume of items.
I have not posted very valuable or expensive items because I am frankly worried that the $1 starting bid will not bring me top dollar necessarily. I have heard from Maxsold that people often sell cars for thousands of dollars, again with a $1 opening bid. I'm a bit more chicken!
What Sells?
---
The short answer: most everything. The long answer: it will depend on timing and your audience. All I can say is that with Maxsold it really is a buyer's market. The audience, while growing, is still limited to people who scroll through the local listings and are available to be there in person for the pick-up.
Many buyers are re-sellers themselves. Others bid and purchase to help others. One of my buyers, finds all the sleeping bags and camping equipment she can and donates to some Native American groups in the West. Other buyers find deals for themselves: perhaps bulk material for sewing and arts and crafts projects, or teachers buying things for their classrooms. Check out this video about how Mari Nicolson creates beautiful art from the discarded belongings featured on the Maxsold website.
It is a mixed bag and also diverse reasons for buying. Get your creative juices flowing with the possibility of re purposing items you may find on Maxsold. Click here to watch a Maxsold video webinar with Serena Appiah from Thrift Diving and be inspired!
So if you know your market is mixed, then try to sell an assortment of items. Usual items from estate sales do just fine: mirrors and artwork and kitchen equipment and tools from the workshop. Whatever you have, it probably will sell. Usual sells as well as lots of DVD's and CD's! Here is a link to the Maxsold website "The 10 Weirdest Things That You Can Find at An Estate Sale".
Don't forget to check out their YouTube videos on everything Maxsold!
Here is the link to their page.
Maxsold Selling Points
---
Less than a week after my sale was completed I received an email from the Maxsold staff with a tracking number and carrier info on when my check will arrive.
Here is some info from that email that I liked a lot!
"By selling through MaxSold you have made an environmentally responsible
decision to reduce your carbon footprint by extending the useful life of
your things.
Because all our goods are bought and sold locally, you have helped eliminate
the carbon footprint associated with packing material and shipping
emissions.
A big thank you from your entire local team as well as your support for
hiring MaxSold."
Recap
---
Pluses
Almost everything will sell in a Maxsold sale
Online auction rather than in person sale
All items begin with a low $1 minimum bid (good for buyers)
No shipping required – local pick-up only
So awesome for selling furniture or larger, bulky items that frankly require local pick-up! Buyers come to you!
The Maxsold team provides very good communication via email and phone, especially for sellers!
Maxsold auctions can be a great tool for huge inventory reduction!
Any profit is a good one!
The Maxsold Seller App is easy to use and upload
Maxsold website has a bunch of educational tips and tricks from the pros on their website
The auctions use a "soft close" which can extend the auction time to create more bidding and increase price (good for sellers)
The online auctions are FREE to register
Great opportunities in sourcing new inventory as a reseller! (Check out info for resellers by watching 2 Maxsold videos)
Competition with other online buyers can be low, depending on auction sites and lots available
The start to finish time is short (10 days) for Maxsold Managed Sales – and they do all the work!
Maxsold handles the advertising and you can promote in your own circles too!
Buyers are very nice!
If you have an actual storefront and use for pick-up, you may increase your customer base with return buyers!
Payment at end of process is received within 14 days of pick-up day
Maxsold really works!
Sky's the limit on profits depending on what you are selling!
It is possible to make money as a referral seller!
Great option to create one's own sale OR have Maxsold manage the whole process
---
Minuses
Items can actually sell for the low starting bid of $1 (not good for sellers)
The $300 or 30% fee (which ever is greater) is rather steep if you don't have high priced items
Communication with buyers can only be done through Maxsold customer service
Setting up lots for sale is a bit hit-and-miss until a good balance is made for what to put in each lot and how big a lot!
Buyers may be stuck with some items in the lot they don't really desire
Using the online spreadsheet is a bit more cumbersome than the mobile app for setting up a "Seller Managed" auction
A pick-up day can be a long one, unless a seller can pair down the time frame, say 10am-2pm rather than 9am-4pm
As a buyer if you aren't able to pick-up, you may forfeit your purchase (please let Maxsold know of any issues)
Buyers are limited to geographic region only, for example SF Bay Area for me because of local pick-up only
Getting past the fear of jumping in and giving Maxsold a try
Final profits may not be as high as a seller may have hoped for
Putting lots together can take a bit of time and one must be organized to run a "Seller Managed" sale including writing fair and honest descriptions and taking in-focus photos are a must
Though typical, buyers pay an 18% Buyer's Premium on their total invoice
Once a seller "locks in their sale", there is a $50 fee to make changes, so be certain when submitting!
As an online seller I find using many different platforms for re-selling and possibly sourcing for items to resell in crucial in my business. I recommend using Maxsold in the mix of other sites like eBay, Poshmark, Craig's List and others. Maxsold is unique in its concept and plan for folks to downsize, have an estate sale and do it as profitably as possible. Without having the headache of shipping and using local pick-up as the way to "move things around the universe", I have been very happy with the four sales I've had and self-managed to date.
If running a sale yourself it too much, Maxsold offers the option of having them do the whole kit 'n caboodle! Either way, there is a solution for you to get rid of unwanted items/clutter/valuables and make some money at the same time. I call using a Maxsold a win/win! Here is a link to a report filled with testimonials and other helpful insights from Maxsold customers.

---
On my scale of the "Z" Rating with 5 being the highest and 1 the lowest, I give Maxsold a solid 5 ZZZZZ's for all that it offers sellers/businesses.

Please don't hesitate to ask me any questions you may have, no matter where you live or where you are in the process of wanting to sell or just plain 'ole get rid of stuff! I hope this review has been helpful and I would love to read your thoughts and comments down below! Here is a link to Maxsold's FAQs where you can find more selling information that may help you in the future!
If you or someone you know may be interested, please use my referral link and you will get $100 off your fees on your first completed sale.